Pianos are for SALE!
If you are living in Okinawa for military service and dreaming to have a acoustic piano in your life, Piano Studio will be the best one to assist you. It would be a great opportunity to have a Japanese piano because the custom duty is not required for personal shopping! Some pianos may be about half of the price sold in the United States. Please visit our show room. There are upright and grand pianos available. I suggest that you make a phone call before your visit. English representative will make an appointment for you.
Grand Pianos
Piano Studio is very good at rebuilding grand pianos. The strings and hammers are replaced with brand new. Well tuned and regulated. If you are looking for specific model, please ask. The piano may be found somewhere in Japan. Although it costs extra shipping to Okinawa, still less expensive than buying one in the states!
Upright Pianos
There are fine upright pianos displayed. Please visit Piano Studio and try the sound.
Tuning
Please call for tuning a piano. I will come anywhere for piano tuning, even on base or off base.
Upright Pianos: 10,800 yen
Grand Piano: 12,960 yen
Note:
Piano tuning is based on oral tuning. No electric tuner devise is used.
Credit card (VISA or Master) is acceptable. If paid by cash, there is a discount 500yen for upright and 600yen for grand.
Repair and Rebuild
Piano repair is also available. I have worked on hundreds of piano from minor repair to total rebuilding. The oldest piano I have worked is the one made in 1924. You can see pictures on my web page of showing how it proceeded, although described in Japanese. Click Here.
Piano School
Nangoku Piano Studio offers one to one private piano lesson for all ages in Chatan near Hamby-area.
6400yen a month for a half hour lesson.
If you want longer lesson than half hour,you we can give you a 40mins,50mins,1hour lesson too.
(Tuition will change depend on the time length)
3240yen for entrance fee plus texts as needed.
Cash or PayPal payment is optional.
A student will have 44 times lesson and 1 student recital a year.
Lesson provided in both English and Japanese.
All our instructors are qualified as a piano teacher and have experience in teaching but the most improtant that we love music and love teaching piano!
If you are interested about us please call 926-1175 for a Free Trial lesson.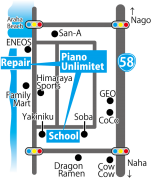 for any assistance, please contact
098-926-0322 or info@pianostudio.jp